Zoom Teeth Whitening
Zoom Teeth Whitening
Where appropriate we often recommend bleaching (whitening) teeth for patients that are more interested in changing the colour rather than the shape of their teeth. The practice offers the revolutionary Zoom! Advanced Power bleaching as seen on TV's "Extreme Makeover" program. Now you can have this teeth whitening in Morwell.
ZOOM Advanced Power system is the most effective technology in tooth whitening available today. The ZOOM! treatment will allow you to achieve maximum whitening results in the shortest possible time. Bleaching is a safe and conservative way to improve your smile. Unlike other cosmetic procedures, there are no needles or drilling involved.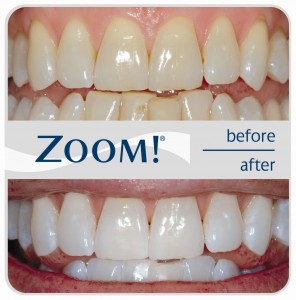 WHAT TO EXPECT
You will be in the dental chair for just over an hour.
The dentist will first isolate your teeth with a barrier that will prevent the bleaching gel from contacting the soft tissue of your mouth.
Professional whitening gel will be applied to your teeth and activated with a specially designed lamp.
Your teeth will be exposed to the light from the ZOOM! lamp for three 15 minute cycles.
At the end of the session the barrier will be removed and the shade of the teeth assessed.
The biggest drawback from the procedure is tooth sensitivity. This is usually quite mild, but can be worse in susceptible individuals. It is transient only, and generally lasts less than 24 hours.
If you already suffer from any degree of sensitivity, consider taking a pain reliever like Ibuprofen (e.g. Nurofen) at least 1 – 2 hours before your appointment time.
The dentist will apply a soothing gel to the teeth at the end of the procedure to keep the sensitivity to a minimum. You may also take this after treatment if you feel necessary.
It is extremely important that you avoid smoking and consuming foods and drinks that contribute to staining for at least a few days after the bleaching. In particular, avoid tea, coffee and red wine. Water is the healthiest alternative for you and your teeth.
The ZOOM! procedure is a stand alone treatment, however, the absolute best whitening result will be obtained when the in-surgery bleaching is combined with at-home bleaching. Custom made trays and special whitening gel is provided that will enable you to enhance and prolong your whitening result. This is available to you if you decide to select our deluxe whitening package, whereby the at-home component is included at a reduced fee.
For more information, simply ask one of our friendly staff or visit http://www.discusdental.com/zoomadvancedpower/